Six Things to Know About Mass Shootings in America
America has experienced yet another mass shooting, this time from the Mandalay Bay Resort and Casino on the strip in Las Vegas, Nevada. It is reportedly the deadliest mass shooting in modern U.S. history.
As a criminologist, I have reviewed recent research in hopes of debunking some of the common misconceptions I hear creeping into discussions that spring up whenever a mass shooting occurs. Here's some recent scholarship about mass shootings that should help you identify misinformation when you hear it.
Free Article: Training, Awareness, Education, and Exercise
#1: More guns don't make you safer
A study I conducted on mass shootings indicated that this phenomenon is not limited to the United States.
Mass shootings also took place in 25 other wealthy nations between 1983 and 2013, but the number of mass shootings in the United States far surpasses that of any other country included in the study during the same period of time.
The U.S. had 78 mass shootings during that 30-year period.
The highest number of mass shootings experienced outside the United States was in Germany – where seven shootings occurred.
In the other 24 industrialized countries taken together, 41 mass shootings took place.
In other words, the U.S. had nearly double the number of mass shootings than all other 24 countries combined in the same 30-year period.
---
---
Another significant finding is that mass shootings and gun ownership rates are highly correlated. The higher the gun ownership rate, the more a country is susceptible to experiencing mass shooting incidents. This association remains high even when the number of incidents from the United States is withdrawn from the analysis.
---
---
Similar results have been found by [the United Nations Office of Drugs and Crime (http://www.unodc.org/documents/gsh/pdfs/2014_GLOBAL_HOMICIDE_BOOK_web.pdf), which states that countries with higher levels of firearm ownership also have higher firearm homicide rates.
My study also shows a strong correlation between mass shooting casualties and overall death by firearms rates. However, in this last analysis, the relation seems to be mainly driven by the very high number of deaths by firearms in the United States. The relation disappears when the United States is withdrawn from the analysis.
#2: Shootings are more frequent
A recent study published by the Harvard Injury Control Research Center shows that the frequency of mass shooting is increasing over time. The researchers measured the increase by calculating the time between the occurrence of mass shootings. According to the research, the days separating mass shooting occurrence went from on average 200 days during the period of 1983 to 2011 to 64 days since 2011.
What is most alarming with mass shootings is the fact that this increasing trend is moving in the opposite direction of overall intentional homicide rates in the U.S., which decreased by almost 50 percent since 1993 and in Europe where intentional homicides decreased by 40 percent between 2003 and 2013.
#3: Restricting sales works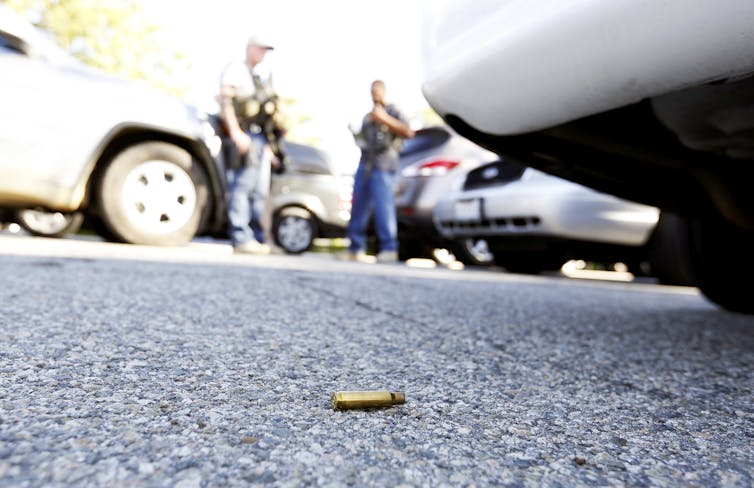 Due to the Second Amendment, the United States has permissive gun licensing laws. This is in contrast to most developed countries, which have restrictive laws.
According to a seminal work by criminologists George Newton and Franklin Zimring, permissive gun licensing laws refer to a system in which all but specially prohibited groups of persons can purchase a firearm. In such a system, an individual does not have to justify purchasing a weapon; rather, the licensing authority has the burden of proof to deny gun acquisition.
By contrast, restrictive gun licensing laws refer to a system in which individuals who want to purchase firearms must demonstrate to a licensing authority that they have valid reasons to get a gun – like using it on a shooting range or going hunting – and that they demonstrate "good character."
The type of gun law adopted has important impacts. Countries with more restrictive gun licensing laws show fewer deaths by firearms and a lower gun ownership rate.
#4: Background checks work
In most restrictive background checks performed in developed countries, citizens are required to train for gun handling, obtain a license for hunting or provide proof of membership to a shooting range.
Individuals must prove that they do not belong to any "prohibited group," such as the mentally ill, criminals, children or those at high risk of committing violent crime, such as individuals with a police record of threatening the life of another.
Here's the bottom line. With these provisions, most U.S. active shooters would have been denied the purchase of a firearm.
#5: Not all mass shootings are terrorism
Journalists sometimes describe mass shooting as a form of domestic terrorism. This connection may be misleading.
There is no doubt that mass shootings are "terrifying" and "terrorize" the community where they have happened. However, not all active shooters involved in mass shooting have a political message or cause.
For example, the church shooting in Charleston, South Carolina in June 2015 was a hate crime but was not judged by the federal government to be a terrorist act.
The majority of active shooters are linked to mental health issues, bullying and disgruntled employees. Active shooters may be motivated by a variety of personal or political motivations, usually not aimed at weakening government legitimacy. Frequent motivations are revenge or a quest for power.
#6: Historical comparisons may be flawed
Beginning in 2008, the FBI used a narrow definition of mass shootings. They limited mass shootings to incidents where an individual – or in rare circumstances, more than one – "kills four or more people in a single incident (not including the shooter), typically in a single location."
In 2013, the FBI changed its definition, moving away from "mass shootings" toward identifying an "active shooter" as "an individual actively engaged in killing or attempting to kill people in a confined and populated area." This change means the agency now includes incidents in which fewer than four people die, but in which several are injured, like this 2014 shooting in New Orleans.
This change in definition impacted directly the number of cases included in studies and affected the comparability of studies conducted before and after 2013.
Some researchers on mass shooting, like Northeastern University criminologist James Alan Fox, have even incorporated in their studies several types of multiple homicides that cannot be defined as mass shooting: for instance, familicide (a form of domestic violence) and gang murders.
In the case of familicide, victims are exclusively family members and not randombystanders.
Gang murders are usually crime for profit or a punishment for rival gangs or a member of the gang who is an informer. Such homicides don't belong in the analysis of mass shootings.
Editor's note: this piece was updated on Oct. 2, 2017. It was originally published on Dec. 3, 2015.
The author of this article is Frederic Lemieux, Professor of the Practice and Faculty Director of the Master's in Applied Intelligence, Georgetown University. This article was originally published in The Conversation under a Creative Commons Attribution No Derivatives license. Read the original article here.
---
If you found this article interesting and want to take a look at the book Active Shooter:  Preparing for and Responding to a Growing Threat.
Authors Kevin T. Doss and C. David Shepherd have trained thousands of people, organizations, and agencies to help them better prepare for active shooter and workplace violence incidents. This book is a compilation of their experience, education, and wisdom gained during years working in high-risk environments both domestically and around the world.
Read the free chapter "Training, Awareness, Education, and Exercise"
Additional chapter are available online via ScienceDirect, or you can purchase a print or ebook via the Elsevier Store. Apply discount code STC317 and receive up to 30% off the list price and free global shipping.
Physical Security & Emergency Management
The advent of the 21st century has brought with it a paradigm shift in approaches to physical security worldwide. In security management and homeland security, as well as in emergency management, mandates for securing people and property are constantly multiplying, leading to new organizations and infrastructures at every level, both public and private. These efforts both drive and depend on security techniques and technologies. Elsevier's robust collection of physical security resources, such as our Butterworth-Heinemann imprint and our collaboration with the Security Executive Council, encompasses topics ranging from aviation security and crisis management to loss prevention and all-hazards risk mitigation.