The Economics of Ridiculously Expensive Art
What would possess someone to buy Leonardo da Vinci's Salvator Mundifor US$450 million? You might think it's an investment – after all it was previously sold for just US$10,000 in 2005.
From an economic point of view, art can be an investment. Although the research shows art investing has mixed results. Art also has what economists refer to as "psychic benefits". It is something to be enjoyed, experienced or flaunted, and this may be the key to the high price paid for Salvator Mundi.
Art as an investment
As an investment, art's performance varies wildly, depending on a number of factors. For instance, artworks associated with movements that are currently fashionable will outperform other types of art.
Contemporary art is currently outperforming impressionist art, for example. The strong demand for contemporary art coupled with limited supply has resulted in some previously overlooked artists, such as Keith Haring, being embraced by collectors.
But it is typically the works of leading artists that are in hot demand.
Recent analysis found that just 25 artists (including Jean-Michel Basquiat, Andy Warhol and Gerhard Richter) account for US$1.2 billion of the US$2.7 billion in worldwide art auction sales for contemporary art sold at auction this year.
Only two women, Agnes Martin and Yayoi Kusama, made it onto the top 25 contemporary artists list. This is indicative of issues around gender representation in the arts and the processes by which artists careers and reputations are established.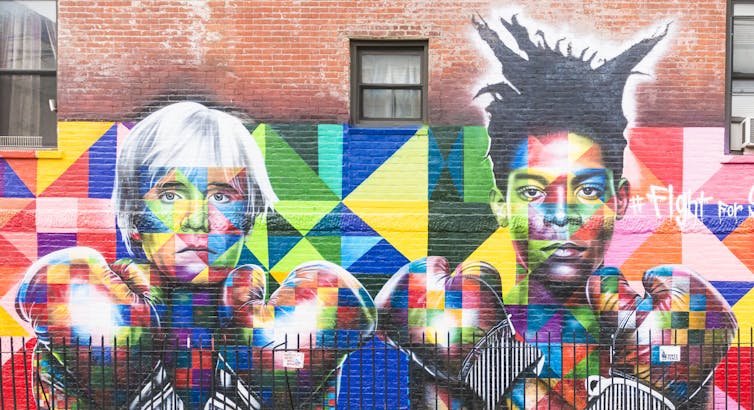 Academic studies of art as an investment have mixed results. For instance, research of the Canadian art market found that the returns are lower than investing in the stock market. However, the study identifies other benefits to having art in your portfolio, such as it being more diversified.
But research based on around 35,000 paintings by leading Australian artists show the financial returns average between 4% and 15%. Returns for paintings by leading Australian artists including Brett Whiteley and Jeffrey Smart exceed stock market returns. The study also found that oil and watercolour paintings, as well as those sold by certain auction houses, had higher prices.
So-called "masterpieces", such as those by Leonardo da Vinci, actually perform worse financially than the art market as a whole.
However, because art also provides benefits through consumption (prestige, decoration etc.), it is different to shares and bonds. The returns may be lower, but art is still attractive to invest in.
---
Read more: Rise of Indigenous art speaks volumes about class in Australia
---
The Australian art market reflects what has happened in the global market for contemporary art. For instance the five highest priced Australian works sold in 2017 account for almost 10% of the total value of all works sold.
And while the recent sale of Earth Creation 1 by the late Indigenous artist Emily Kame Kngwarreye has not attracted the attention of the Leonardo sale, its price of $A2.1 million is nearly double what it sold for at auction a decade earlier.
Art for consumption
The aesthetic pleasure of art, a feeling of being challenged or inspired, is subjective and difficult to measure. But that doesn't mean the consumption of art doesn't add to its value.
Economists use the terms "psychic returns" or "psychic benefits" to describe the benefits of consuming art. This is broken down into three main areas.
One area is the satisfaction of supporting the arts and artists. This motivation is especially important for those who donate their collections to museums or otherwise support the arts. While this motivation is important it is not directly related to auction prices.
Then there's the psychic benefit comes from the "functional" (or decorative) benefits of art that is used to adorn spaces. This is generally the closest to the artists intention when they create the work in the first place.
There's also the prestige that comes from possessing art – especially as it is used to display good taste, wealth and power. For instance, entrances and foyers of offices often display large striking works of modern or contemporary art.
This is what economists call "conspicuous consumption". As people become wealthier, their demand for high-end art increases. Indeed, art has a long tradition of being used as a statement of power, including by the church.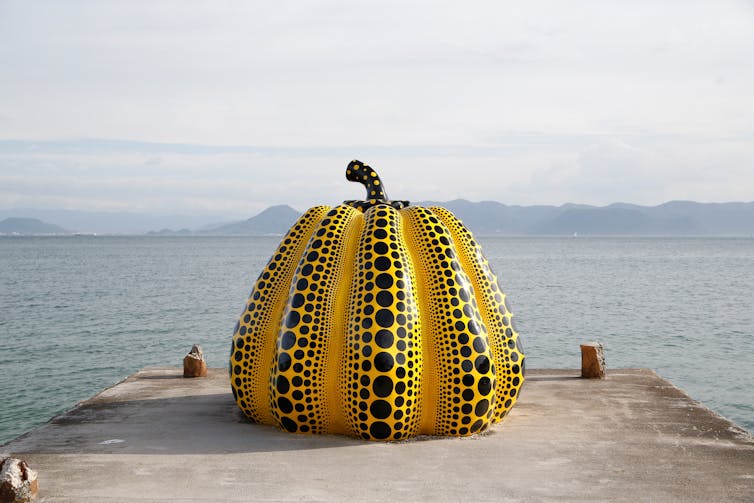 ---
Read more: Why we are willing to pay for mega expensive things
---
What drives the art market, especially at the upper echelons, is a curious mix of investment and consumption, fuelled by a limited supply.
The work of famous artists provides a signal of quality and assurance to the market and so their work is coveted by the rich and powerful. The uniqueness and rareness of these pieces not only spurs demand, but restricts supply, creating a perfect storm to drive prices up.
Although, even this doesn't entirely explain the high price paid for Leonardo's Salvator Mundi. Analysis of the sale suggests the market campaign by the auction house was significant in achieving such a high price.
But aside from its trade value, art can have cultural value and social significance that do not neatly translate to market prices. So while Leonardo's Salvator Mundi sold for US$450 million, non-tradable masterpieces such as Michaelangelo's ceiling of the Sistine Chapel aren't worthless. They're "beyond price".
This article was originally published in The Conversation under a Creative Commons Attribution No Derivatives license. Read the original article here.
---
If you're interested in more historical information about the Brazilian economy, you may be interested in the book Collectible Investments for the High Net Worth Investor. The author has assembled experts in various types of collectibles analyze the financial aspects of investing in these collectibles.
We are pleased to offer a complimentary chapter, Collecting as Luxury Consumption: Effects on Individuals and Households. This chapter discusses how successful collecting involves a connoisseurship, preservationism, scholarship, daring, perseverance, and judgment that rehearses or parallels traits one generally values in careers and in Western culture generally.
If you'd like to access more chapters, they are available online via ScienceDirect. You can also order a print or e-copy of this book, by visiting the Elsevier website here. Apply discount code STC315 to save up to 30% off the list price and free global shipping.
Social Sciences
The general scope of social sciences is vast, and Elsevier's collection of journals, books, and eBooks examine in detail a wide range of topics in this area, from sociology, law, and cognitive science to political science, education, and linguistics. Our Chandos imprint in particular, known for high-quality scholarship in Asian studies, library and information science, and business management, reflects Elsevier's continuing commitment to these crucial areas of study.