Sugar In The Diet May Increase Risks Of Opioid Addiction
Could a diet high in refined sugars make children and adults more susceptible to opioid addiction and overdose? New research, from our laboratory of behavioral neuroscience at the University of Guelph, suggests it could.
Approximately 20,000 people died of fentanyl-related overdoses in the United States last year and in Canada there were at least 2,816 opioid-related deaths. During 2017 so far, over 1,000 people have died of illicit drug overdoses in British Columbia. High schools are stocking up on the overdose-reversing drug naloxone and universities are training staff to administer the drug.
Nobody is talking about sugar.
And yet there is substantial experimental evidence that refined sugar can promote addictive behaviours by activating the brain's rewards centres in much the same way as addictive drugs. Opioid abuse is also associated with poor dietary habits, including preferences for sugar-rich foods, as well as malnutrition. These connections have led to questions of whether excessive consumption of refined sugar may affect vulnerability to opioid addiction.
To explore the possible role of a sugar-rich diet in opioid addiction, we investigated whether unlimited access to high fructose corn syrup (HFCS) altered rats' neural and behavioural responses to the semi-synthetic opioid, oxycodone.
Our findings suggest that a diet high in corn syrup may dampen the reward associated with oxycodone and may therefore encourage consumption of higher quantities of the drug.
Opioids, high fructose corn syrup and addiction
High fructose corn syrup is a refined sugar that typically includes more fructose than glucose. It is a commonly used food additive in North America, produced by chemically processing corn. Although it is employed in many processed foods, its use in soft drinks appears to have the biggest impact on health. In fact, there is a significant relationship between increased consumption of sugar-sweetened beverages and weight gain, metabolic syndrome and hypertension.
Recently, our laboratory has been exploring the impact of HFCS on behaviours and brain markers of addiction in laboratory rats. In one study conducted by my PhD student Meenu Minhas, animals had unrestricted around-the-clock access to bottles containing a water solution sweetened by HFCS. After about a month of voluntary drinking, the bottles were removed and, after a few sugar-free days, animals' behavioural and neural responses to oxycodone were assessed.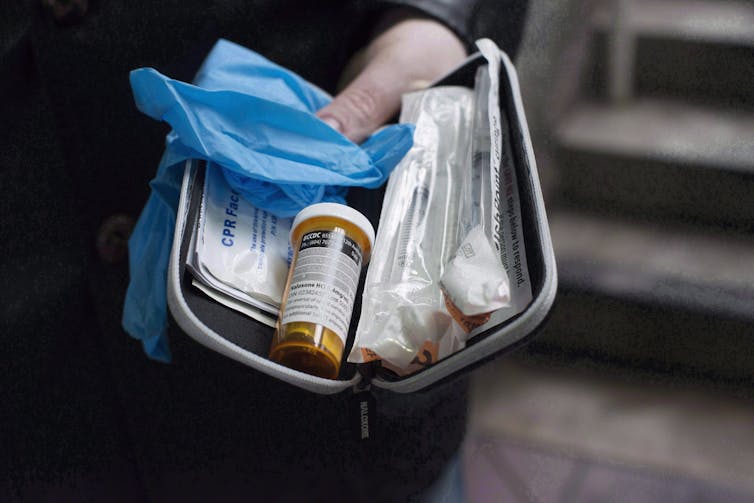 Similar to other opioids, oxycodone induces pharmacological effects that include analgesia, euphoria and feelings of relaxation. Some common street names include: "hillbilly heroin," "perc," and "OC." Oxycodone is the active ingredient in a number of formulations which include intravenous injections, immediate release solutions/capsules (Percocet, Percodan, OXY IR, OXY FAST), and extended release preparations (OxyContin).
Oxycodone is also highly addictive and has impacted the lives of numerous North Americans. There are estimates that its consumption increased by almost 500 per cent from 1999 to 2011. The U.S. National Survey on Drug Use and Health revealed that approximately 27.9 million people aged 12 or older used oxycodone products. Moreover, 4.3 million people aged 12 or older reported misusing oxycodone-containing products in the past year.
Dampening drug's reward may increase use
At the neural level, HFCS exposure decreased oxycodone-induced release of dopamine, which is a desire-promoting neurotransmitter active in the brain's reward circuits.
Furthermore, at low doses, sedative drugs like opioids and alcohol normally interfere with inhibition and stimulate a variety of "psychomotor" behaviors — such as sociability, extroversion, talkativeness, sensation seeking and interest in novelty. Our study in rats found that exposure to the high fructose corn syrup reduced this psychomotor stimulation induced by oxycodone.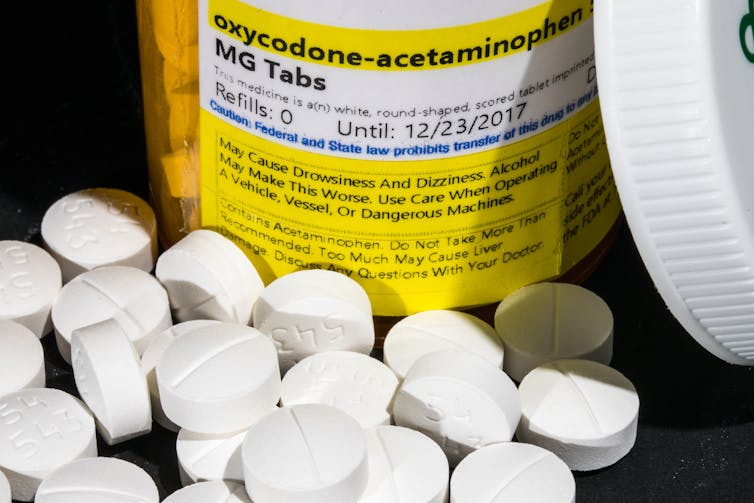 Our experiments show that chronic exposure to high fructose corn syrup had an impact on both the neural and behavioural responses to oxycodone, resulting in changes likely to affect drug-taking and drug-seeking behaviour. They suggest that a high sugar diet may dampen the reward associated with a given dose of oxycodone. And that this may cause people to consume more of the drug.
These results suggest that nutrition, and high fructose corn syrup intake in particular, can influence responses to opioids — a finding that may be relevant both to clinical uses of opioids and to treatment of addiction.
We can win the war on opioid addiction only if we tackle the problem from multiple angles. Our findings, and those of other laboratories, strongly suggest that prevention of unhealthy diets may not only help reduce the obesity epidemic, but also reduce environmental factors that may predispose to opioid addiction.
This article was originally published on The Conversation website under a Creative Commons Attribution 4.0 International License. Read the original article here.
---
Chapter 99 Food Addiction: Applying Substance Use Disorder Criteria and Characteristics to Identify Instances of Addictive-Like Eating from Neuropathology of Drug Addictions and Substance Misuse is available for a limited time on ScienceDirect.
Drugs of abuse exert powerful effects on the brain's reward system, a system that has evolved to reinforce adaptive behaviors such as feeding. In some instances, intake of such substances can lead to addiction. Given that drugs of abuse are operating on the same neural pathways that evolved to enforce feeding, it has been suggested that a state of addictive-like eating is also possible. It is hypothesized that "food addiction" can develop when highly palatable foods, such as those high in fat and sugar, hyperstimulate the reward pathways. There is clinical and preclinical evidence that certain instances of compulsive overeating have striking behavioral and neurobiological similarities with substance abuse disorder. It is possible that compulsive eating could, in turn, lead to obesity, which is a leading cause of preventable death globally. This chapter explores the validity of a food addiction diagnosis using diagnostic criteria for substance use disorder and reviews behavioral and neurochemical evidence from the animal and clinical literature supporting the construct of food addiction.
Want to read more?
Neuropathology of Drug Addictions and Substance Misuse Volume 3
Offers a modern approach to understanding the pathology of substances of abuse, offering an evidence-based ethos for understanding the neurology of addictions
Fills an existing gap in the literature by serving as a "one-stop-shopping" synopsis of everything to do with the neuropathology of drugs of addiction and substance misuse
Includes in each chapter: list of abbreviations, abstract, introduction, applications to other addictions and substance misuse, mini-dictionary of terms, summary points, 6+ figures and tables, full references
Offers coverage of preclinical, clinical, and population studies, from the cell to whole organs, and from the genome to whole body
The book is available now on ScienceDirect. Want your own copy? Enter STC317 at the checkout when you order on Elsevier.com to save up to 30%
Biomedicine & Biochemistry
The disciplines of biomedicine and biochemistry impact the lives of millions of people every day. Research in these areas has led to practical applications in cardiology, cancer treatment, respiratory medicine, drug development, and more. Interdisciplinary fields of study, including neuroscience, chemical engineering, nanotechnology, and psychology come together in this research to yield significant new discoveries. Elsevier's biomedicine and biochemistry content spans a wide range of subject matter in various forms, including journals, books, eBooks, and online information services, enabling students, researchers, and clinicians to advance these fields. Learn more about our Biomedical and Biochemistry books here.