Why (ex)Hurricane Ophelia Took a Wrong Turn Towards Ireland and Britain – and Carried all that Dust
Hurricane Ophelia, by then downgraded to Storm Ophelia, reached Ireland on Monday October 16. At the time of writing there had already been three deaths and countless reports of severe damage to buildings and fallen trees. Unlike other severe storms to reach Ireland and Britain, such as the 1987 Great Storm, Ophelia was in many ways a typical tropical cyclone with a tight spiral of cloud, powerfully strong winds, and a cloud-free eye.
But what set it apart from other Atlantic hurricanes was its direct route to Europe. While hurricanes do sometimes take a circuitous route westward across the ocean and loop back again towards Europe, this one took a short cut.
Ophelia began as a rather innocuous looking group of clouds in the Atlantic Ocean, several hundred miles south-west of the Azores and roughly on the same latitude as Morocco or northern Florida. Yet even at this stage it was unusual. Most named storms in the Atlantic are generated in warmer waters much further south and, as such, they are generally driven across the ocean by the easterly (blowing westwards) trade winds. They eventually dissipate as they curve north into the Atlantic or make landfall in the Caribbean, Mexico or the US.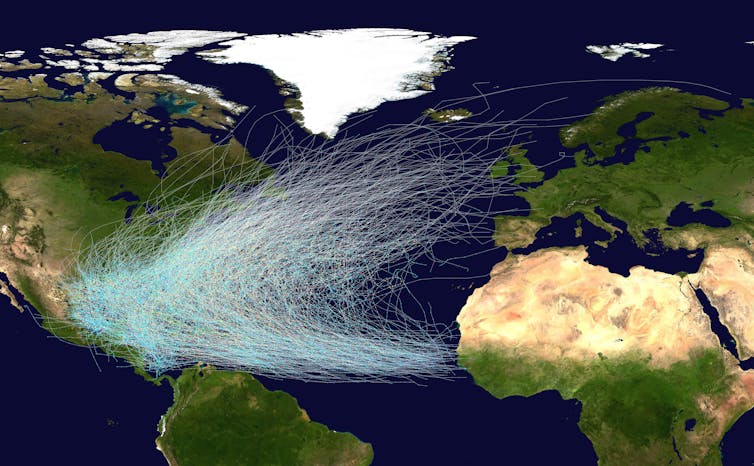 In Ophelia's case, moderate atmospheric shear (changes in direction and strength of wind with height) and relatively cool sea surface temperatures meant it took several days to develop the well-defined low pressure centre, strong winds and spiral clouds of a hurricane. Then, instead of travelling west, like most Atlantic hurricanes, Ophelia began to head north-east.
This can be explained by the position and strength of the mid-latitude jet stream, an atmospheric feature that plays a major role in determining the weather over Western Europe. When its path loops north over the UK it can produce stable warm conditions in the summer (as in the record-breaking heatwave of July 2015), and bright cold days in the winter. When its path west to east is more direct, it guides low pressure storm systems across the UK and Ireland and can be responsible for the rapid strengthening of storms in a short period of time (described colloquially by forecasters as a "weather bomb").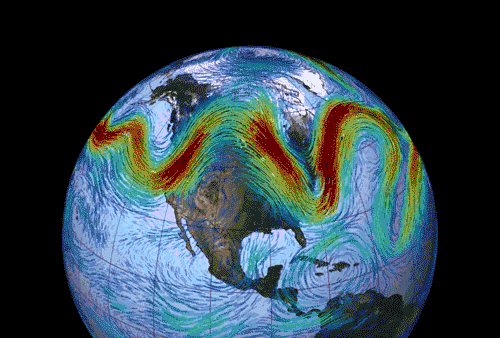 It is this that produced such a rapid change in direction for Ophelia. Such waves on the mid-latitude jet stream are not unusual, however, the combination of both the jet's and Ophelia's position produced the conditions to guide the ex-hurricane toward the British Isles.
Adrift in the Azores
Tropical cyclones that form in or travel to the region near the Azores can become trapped. Stronger vertical wind shear to the north and south as well as colder sea surface temperatures in the surroundings can lead to storms that travel very slowly and eventually dissipate due to unfavourable conditions.
If there is no external force that can help to steer the storm, but conditions remain favourable, then tropical cyclones can persist for a long time. An example of this was Hurricane Nadine which circled the same part of the ocean where Ophelia formed for almost a month in 2012, the fourth longest-lived Atlantic hurricane on record.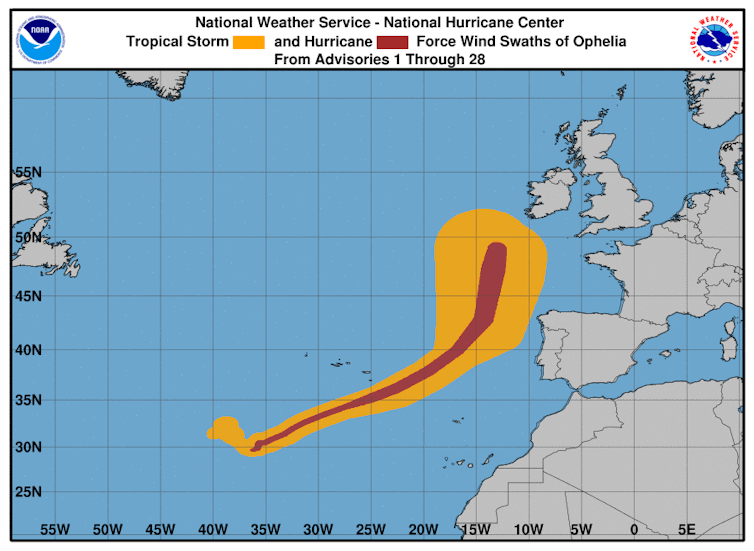 That may have been Ophelia's fate too, had it not been for the mid-latitude jet stream which instead guided the hurricane directly toward Ireland. It is partly due to this behaviour that the forecasts have been so accurate. Jet streams are generally well represented in numerical weather models, and so their influence on a storm's path can be well predicted.
Ahead of Ophelia's arrival the UK had a weekend of unseasonably balmy temperatures thanks to warm tropical air driven northwards. This is partly due to the winds circulating around the Ophelia low pressure centre, but also the positioning of the jet stream helping to draw air up from the tropics.
What about that dust?
On Monday much of the UK looked far less like a hurricane had arrived, and much more like the whole country had been put through a rosy Instagram filter. The sun was particularly red at dawn and throughout much of the day the whole sky glowed a yellowy-orange.
Surreal red sky in London as Ophelia whips up dust from the Sahara.

(ht @iihtishamm) pic.twitter.com/abNeuJqfKj

— ian bremmer (@ianbremmer) October 16, 2017
This effect was partly thanks to the southerly winds on Ophelia's eastern side, which transported Saharan dust and smoke from Iberian forest fires. In fact several flights over the UK were forced to make emergency landings when smoke could be smelt in the cabin. Increased number of particles in the atmosphere then scattered light preferentially from the blue end of the spectrum, leaving the more orange and red colours to reach our eyes.
But Ophelia also produced a layer of upper level clouds, thick enough to block out much of the sun's rays directly but thin enough to allow a large amount of diffuse, scattered light to pass through. On a day when the sky was not full of smoke and dust particles, this would have appeared like a run-of-the-mill white skied, overcast day. However, on Monday it led to Facebook feeds being filled with photos of a bright orange sun at midday and yellow clouds.
This article was originally published in The Conversation under a Creative Commons Attribution No Derivatives license. Read the original here.
---
Chapter 3 Natural Hazards and the Urban Environment from Urban Emergency Management is available for a limited time on ScienceDirect.
This chapter identifies common types of natural disasters, provides modern examples of each, and seeks to identify best practices to counteract future occurrences. The factors present when such emergencies affect densely populated cities will be given special consideration.
Want to read more?
Presents an all-hazards and all-phases approach to emergency management, including natural hazards and human-caused disasters
Covers the human capital and political and leadership qualities needed by urban emergency managers
Targets the needs of emergency management in urban settings
The book is available now on ScienceDirect. Want your own copy? Enter STC317 at the checkout when you order on Elsevier.com to save up to 30%
Earth & Environmental Science
The fields of Earth science, planetary sciences, and environmental science encompass disciplines critical to the future of our world and its inhabitants. Our well-being depends on a thorough understanding of air and water resources, soil chemistry, atmospheric dynamics, geology, and geochemistry, along with a myriad of other aspects of the environment we live in. Elsevier supports the efforts of researchers and scholars in these areas with content that meets their cross-disciplinary needs: journals, books, eBooks, and online tools that span computer science, chemistry, energy, engineering, biology, agronomy, ecology, environmental impact and many other topics fundamental to the study of our world. Learn more about our Earth and Environmental Science books here.